Home
Latest bulletin re tiering after Christmas
Please click here to read the latest information from Essex regarding restrictions from Boxing Day, providing points of help and assistance to those isolated.
For information on and help with issues relating to Covid-19 please refer to this page
For new residents please see the Welcome Pack.
Welcome to Quendon and Rickling!
Our conjoined villages lie between Newport and Stansted Mountfitchet in Essex on the old London to Cambridge Road; previously the A11, and now the B1383. (Map)
Rickling (strictly Rickling Green) is contiguous with Quendon but is on more minor roads. Rickling village proper is a little way from Rickling Green, but consists of a very small community now, possibly resulting from middle ages plagues and consequent desertion of population, or perhaps simply due to alterations in traffic patterns with the development of other routes and consequent migrations in search of trade. See the History page for more information.
Our District Council is Uttlesford District Council, based in Saffron Walden's former hospital building in London Road (as well as others).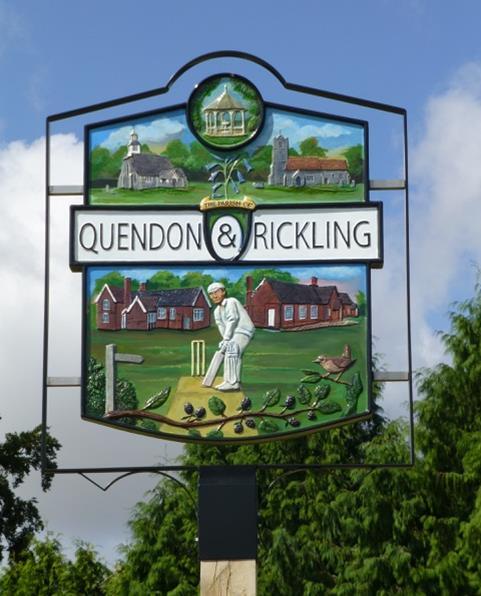 We have a seven-member Parish Council which does its best to provide what it can to maintain and improve the villages.
The Village monthly magazine, The Link, is delivered free to every household in Quendon and Rickling and may also be viewed and downloaded here. Past issues are also available to provide an insight to previous village activities. Please note that these files may take a while to download.
More information about the villages and what is happening in them can also be found on the Q&R Parish Council Facebook page: https://www.facebook.com/profile.php?id=100011970814112&fref=ts and on the Q&R Village Page: https://www.facebook.com/groups/1419742138338703/
If you have any comments or questions about this website, or wish to publicise a Quendon and Rickling event please email tddqrpc@gmail.com
Upcoming events
Friday 22 January 2021
Check with organiser for cancellation status
Term-time only
Monday 25 January 2021
These events are cancelled until further notice.

Every Monday with Pauline Everton