Local Religious Communities
Church of England
Having for many years operated effectively as a single church with two buildings, the two church parishes of Quendon and Rickling are now formally united as the Church Parish of Quendon and Rickling. Both church buildings continue in use for the parish.
St Simon & St Jude, Quendon CB11 3XJ
Quendon's Church building may be found at the end of a tiny lane off the main Cambridge Road. Perched atop a small hill it is easily recognisable by its white bell tower and cupola.
All Saints, Rickling CB11 3YL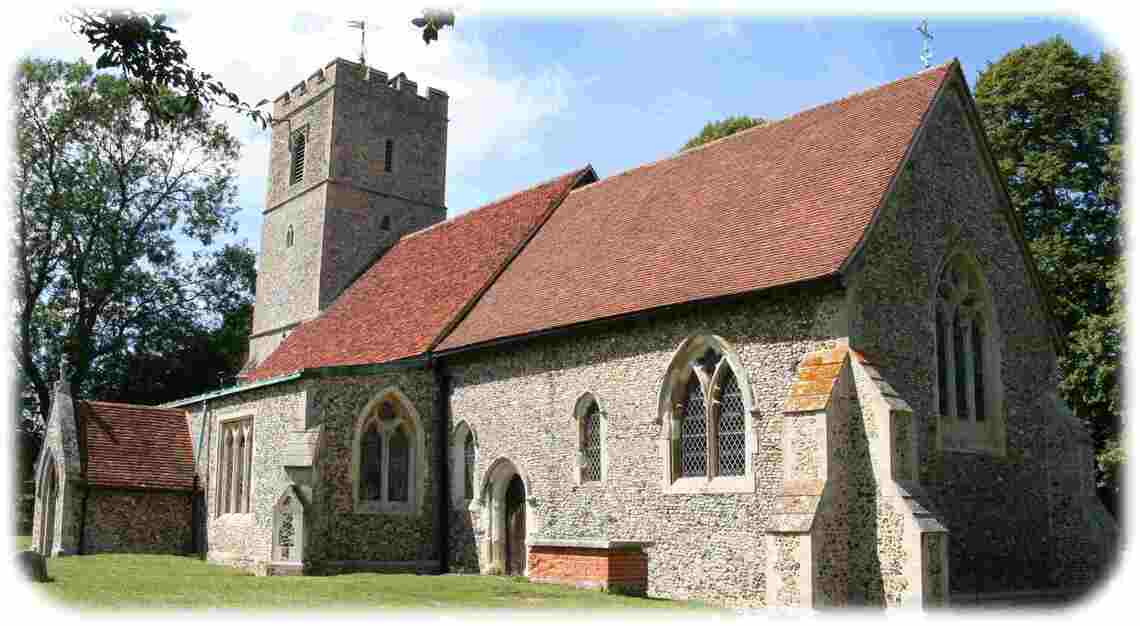 Rickling Church building is at Church End in the now almost deserted old village of Rickling, a mile or so from Rickling Green. Like Quendon's church it is at the top of a hill, and lies beside the road between Rickling Green and Wicken Bonhunt.
The two churches are part of a joint benefice with the Parish Church of St Mary the Virgin, Newport and that of St Mary the Virgin, Widdington. Sunday services are arranged according to a basic rota (subject to seasonal/festival variations), but it is best to consult THE LINK (see submenu to News above) parish magazine for details. These .pdf files are quite large (a 2-3MB compromise between picture quality and download speed) so be patient while they download!
If you would like a visit, either at home or in hospital, or you know of someone else who would like a visit, please contact the vicar, Revd. Neil McLeod,
5, Meadowford,
Newport,
Essex, CB11 3QL
Tel: 01799 540339
E-mail: vicar4nqrwchurches@gmail.com
For information regarding Quendon Church, please contact Churchwardens Maureen Hawkins on 01799 543201 and Christine Osbourn on 01799 543367 and for Rickling Church contact Churchwardens Maureen and Gavin Lord on 01799 541218
Quakers
The nearest Meetings are the large one in Saffron Walden and a rather smaller one in Stansted Mountfitchet. Both meet every Sunday at 10.30 and anyone is welcome to come to a meeting and find out about Quakers.
Roman Catholic
St. Theresa of Lisieux
Stansted Road
Stansted Mountfitchet
Essex
Contact: Father Lee Bennett - 01279 814349 - frleebennett@dioceseofbrentwood.org
Our Lady of Compassion,
Castle St,
Saffron Walden, CB10 1BP
Contact (click)
Methodist
The Methodist and United Reformed Churches in Stansted Mountfitchet joined to form the Stansted Free Church
and may be found in Chapel Hill, Stansted CM24 8AG
Saffron Walden Methodist Church
Castle Street, Saffron Walden, Essex CB10 1BP
Contact: Telephone: 01799 522037 Fax: 01799 522037
United Reformed
The United Reformed and Methodist Churches in Stansted Mountfitchet joined to form the Stansted Free Church
and may be found in Chapel Hill, Stansted CM24 8AG
Saffron Walden URC (Abbey Lane)
Abbey Lane
Saffron Walden
Essex
CB10 1AG
Telephone: +44(0)17 9952 6618
Islamic
The nearest mosques are in Cambridge and Chelmsford
Jewish