Quendon and Rickling Lifeline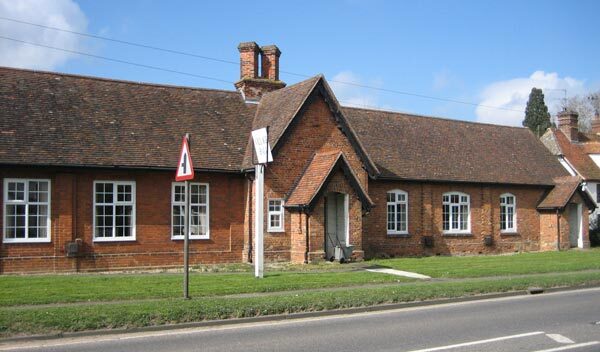 Located in a secure yellow box in the central porch of the village hall is our community Automated External Defibrillator or AED. This automated device which is designed to be operated by any member of the public, will supply an electrical stimulant to someone who has suffered a cardiac arrest.
Should anyone suffer a cardiac arrest or show symptoms of an heart attack e.g. pains in the chest then the first action should always be to phone the ambulance service on 999. They are aware of the availability of our defibrillator and will inform the caller of the code to open the box to access the unit. The unit 'speaks' instructions to the operator, tells them where to place the pads and will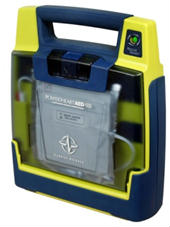 diagnose whether the patient will benefit from the unit's electrical charge.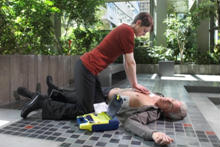 When a cardiac arrest occurs, time is of the essence and after 5 minutes following arrest the chances of survival are significantly reduced. However this period can be significantly extended by the application of chest compressions. Once the ambulance has been called stay with the patient to give compressions and call for help from either an AED operative or passer-by etc to get the AED.
The unit is designed for general public use; however Quendon and Rickling has a team of trained volunteer operatives ready to help either in the application of chest compressions or use of the AED. Their names and telephone numbers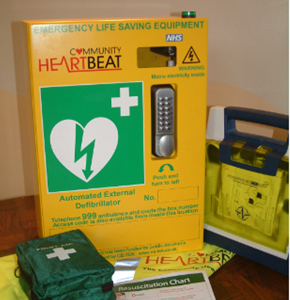 will appear in THE LINK every month and a copy is retained in the defibrillator box. Should the patient be some distance from the unit then phone one of the helpers located at the southern end of Cambridge Road to collect the unit and bring it to the scene of an incident.
Remember that you are helping to save a life by taking action and doing nothing will not help anyone. By releasing the code the ambulance service are authorising you to use the defibrillator and the unit's diagnosis tool takes the decision to apply the treatment.
Your nearest AED operative:
| | | |
| --- | --- | --- |
| Name | Telephone Number | Locality |
| Robert Arnold | 01799 543075 | Northern End - Cambridge Road |
| Sandra Arnold | 01799 543075 | Northern End - Cambridge Road |
| Andrew Thomson | 01799 543253 | Northern End - Cambridge Road |
| Karen Thomson | 01799 543253 | Northern End - Cambridge Road |
| Thelma Wilson | 01799 543313 | Northern End - Cambridge Road |
| Chris Phillips | 01799 542351 | Middle - Cambridge Road |
| Sue Phillips | 01799 542351 | Middle - Cambridge Road |
| Nigel Ackerman | 01799 540678 | Middle - Cambridge Road |
| Wendy Stannard | 01799 541869 | Middle - Cambridge Road |
| Anne Howes | 01799 543545 | Southern end – Cambridge Road |
| Joanne Hales | 07903 596011 | Rickling Green |
| Janice Hart | 01799 541196 | Rickling Green/Brick Kiln Lane/Rickling |
| Clare Willoughby | 01799 543637 | Rickling Green/Brick Kiln Lane/Rickling |
| | | |
| | | |
| | For further information see | www.communityheartbeat.org.uk/ |